Cops for Kids Fundraiser Los Lunas
November 16, 2020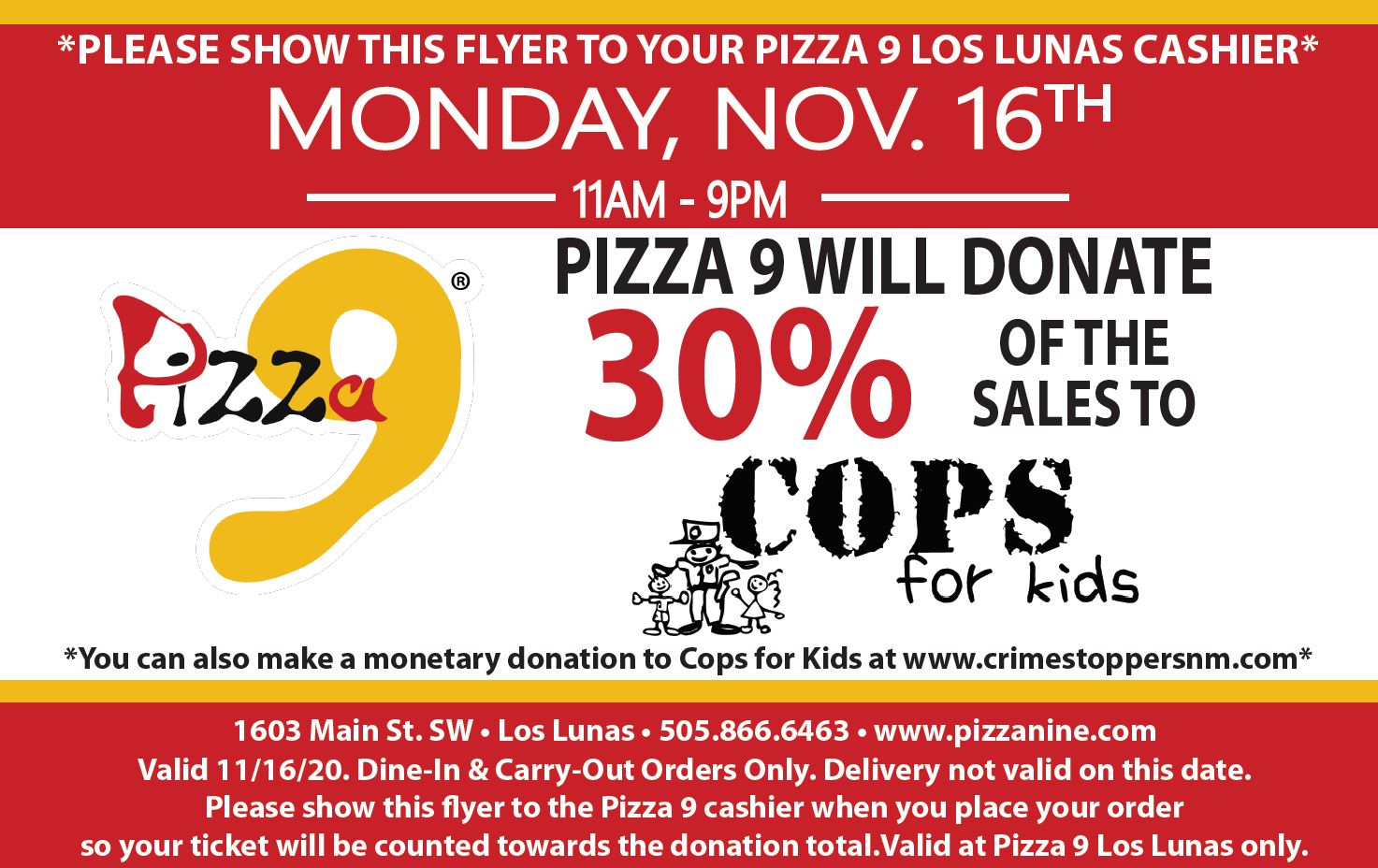 ---
Cops for Kids Fundraiser Coors & I-40
November 18, 2020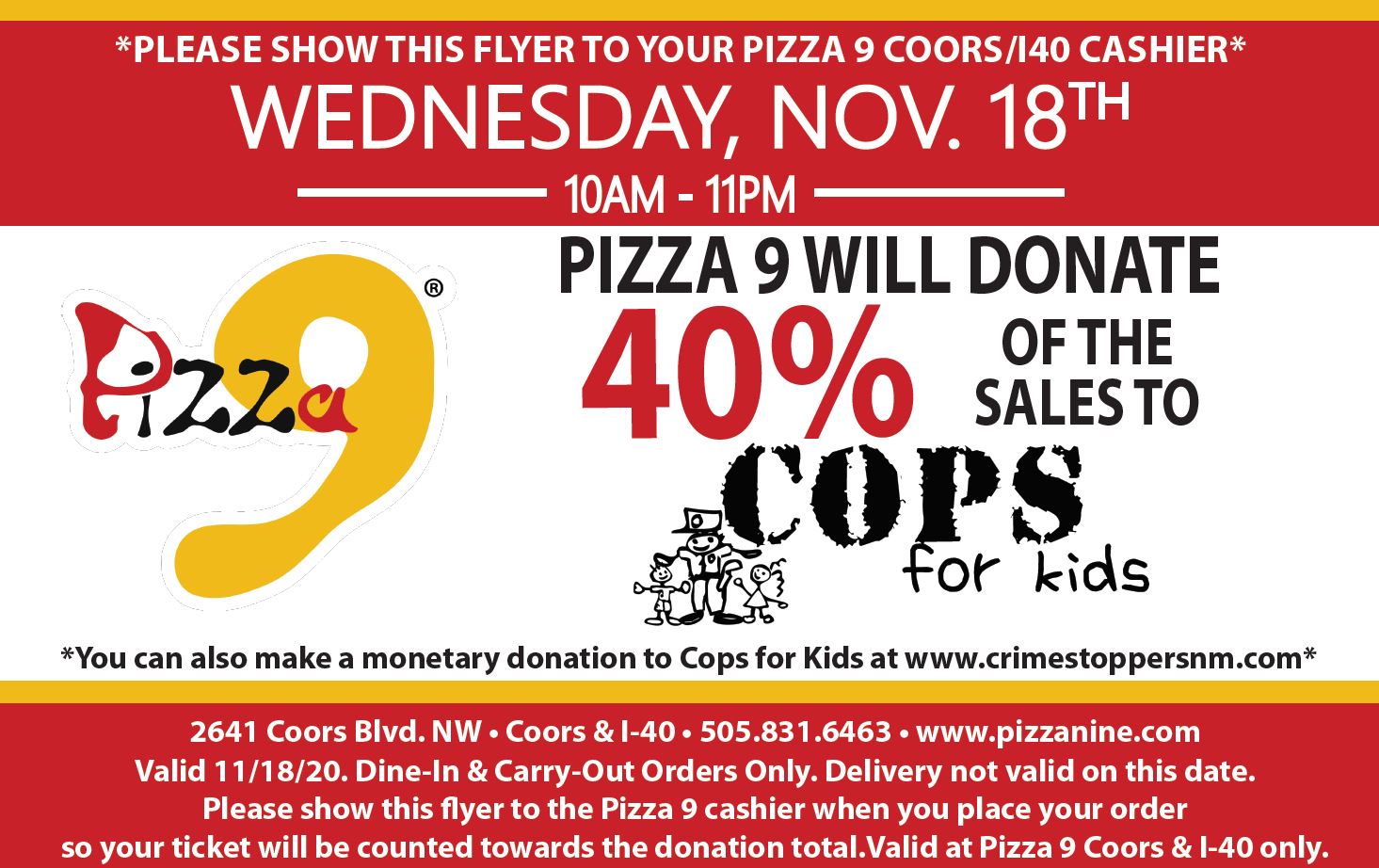 ---
26th Annual Cops for Kids
December 13, 2020
Help support Crime Stoppers in serving underprivileged children in our community. Cops for Kids is an annual philanthropic event where law enforcement officers from several jurisdictions are paired up with a child. On average (110-125) children are selected to participate in this Christmas event each year. Referrals for consideration come from the City of
Albuquerque/Bernalillo after School Programs and Homeless Projects throughout the city and county. Children are selected based on certain criteria and available funding. Our goal is to help 150 children and their families. Our 26th Annual Cops of Kids event will be on Sunday, December 13, 2020, and is often the only Christmas these children will have.
This has been a successful event for the past (25) years, because of community partners like you. Won't you please consider sponsoring one or more children this year. Your donation is tax-deductible, please send your donation to the address listed as soon as possible so we can begin to get the children registered.
If you have any questions, please contact Sonya Marquez (505) 917-6436.
"Cops for Kids" c/o Sonya Marquez
P.O. Box 3457, Albuquerque, New Mexico 87190.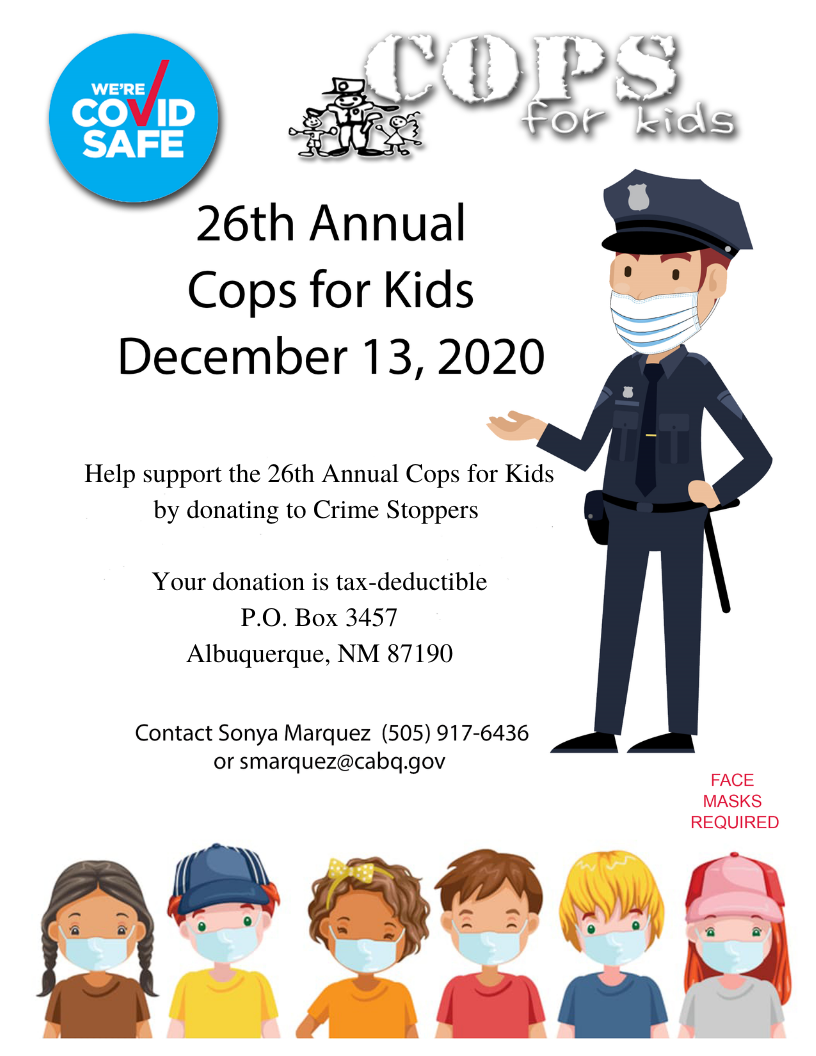 ---
Cops for Kids
December 13, 2020
Cops for Kids is a program that provides children (ages 6 to 11) with the opportunity to spend the day with a police officer. The children are given a $100 Walmart gift card to purchase clothing and other necessities.
Children who are selected are nominated through APS Title 1 Homeless Project and local Law Enforcement. To help as many families as possible, if a family has received assistance through Cops for Kids in previous years, they are not eligible to participate in future events.
This has always been a successful event because of the officers and numerous volunteers who have donated their time to give back to their community.
Officers come from the Albuquerque Police Department, Bernalillo County Sheriff's Office, New Mexico State Police, Bosque Farms Police Department, University of New Mexico Police Department, Corrales Police Department and Laguna Police Department.
Donations
Cops for Kids is funded through donations, with every small donation Crime Stoppers and your local law enforcement can help brighten up a child's holiday season. Please consider making a small donation. Your donation is tax deductible.
For more information, call Sonya Marquez (505) 768-2256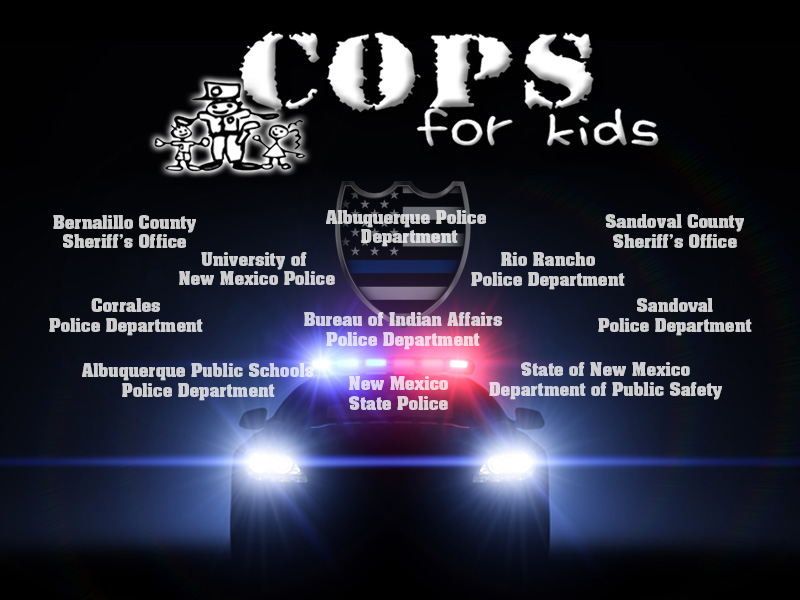 ---