Albuquerque Gun Buy Back
October 30, 2021
Albuquerque Gun Buy-Back
Saturday, October 30, 2021
9am - 1pm
Albuquerque Police Crime Lab
5350 2nd Street NW, Albuquerque, NM 87107
Gift cards will be given for unwanted firearms
$100.00 for revolvers and long guns
$150.00 for semi-automatic handguns and
$200.00 for assault rifles
Please place your unwanted firearm(s) unloaded in your trunk
For more information call Sonya Marquez at (505) 768-2256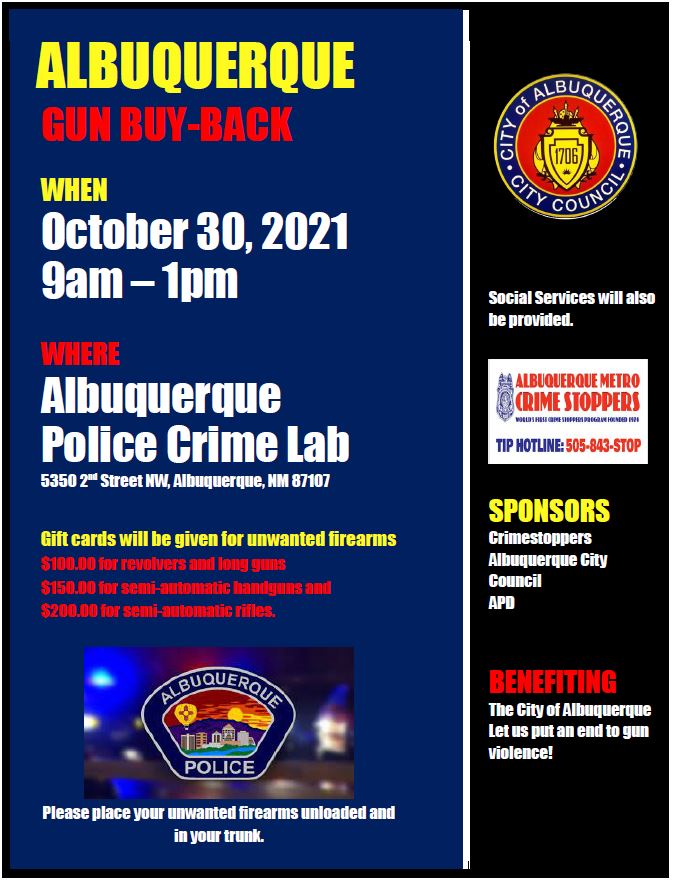 ---
Glow in the Dark Golf Tournament
October 16, 2021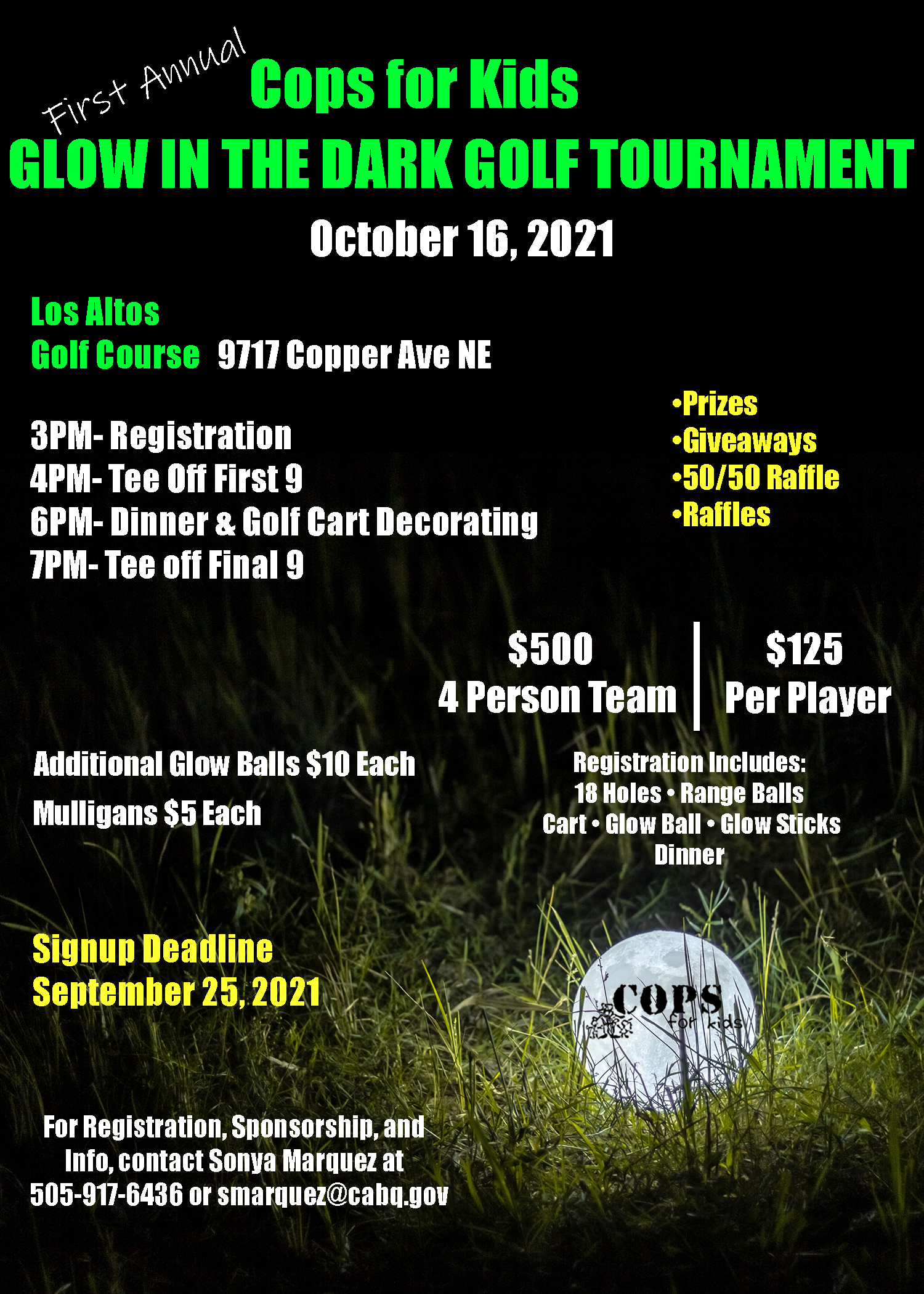 ---
Gun Buy Back
May 22, 2021
Albuquerque Police Crime Lab
5350 2nd Street NW, Albuquerque, NM 87107
Gift cards will be given for unwanted firearms
$100.00 for revolvers and long guns
$150.00 for semi-automatic handguns and
$200.00 for assault rifles
Please place your unwanted firearm(s) unloaded in your trunk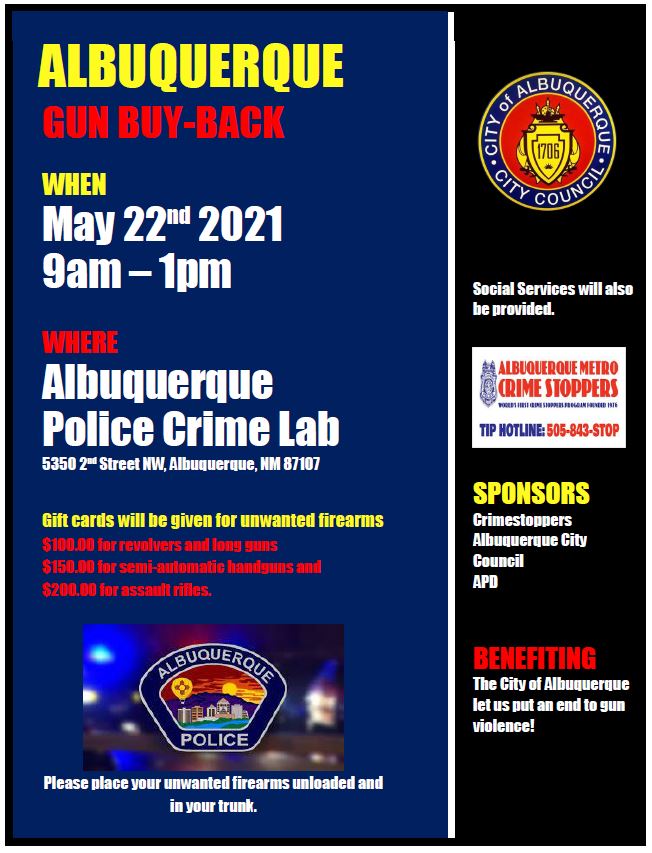 ---
Cops for Kids
Cops for Kids is a program that provides children (ages 6 to 11) with the opportunity to spend the day with a police officer. The children are given a $100 Walmart gift card to purchase clothing and other necessities.
Children who are selected are nominated through APS Title 1 Homeless Project and local Law Enforcement. To help as many families as possible, if a family has received assistance through Cops for Kids in previous years, they are not eligible to participate in future events.
This has always been a successful event because of the officers and numerous volunteers who have donated their time to give back to their community.
Officers come from the Albuquerque Police Department, Bernalillo County Sheriff's Office, New Mexico State Police, Bosque Farms Police Department, University of New Mexico Police Department, Corrales Police Department and Laguna Police Department.
Donations
Cops for Kids is funded through donations, with every small donation Crime Stoppers and your local law enforcement can help brighten up a child's holiday season. Please consider making a small donation. Your donation is tax deductible.
For more information, call Sonya Marquez (505) 768-2256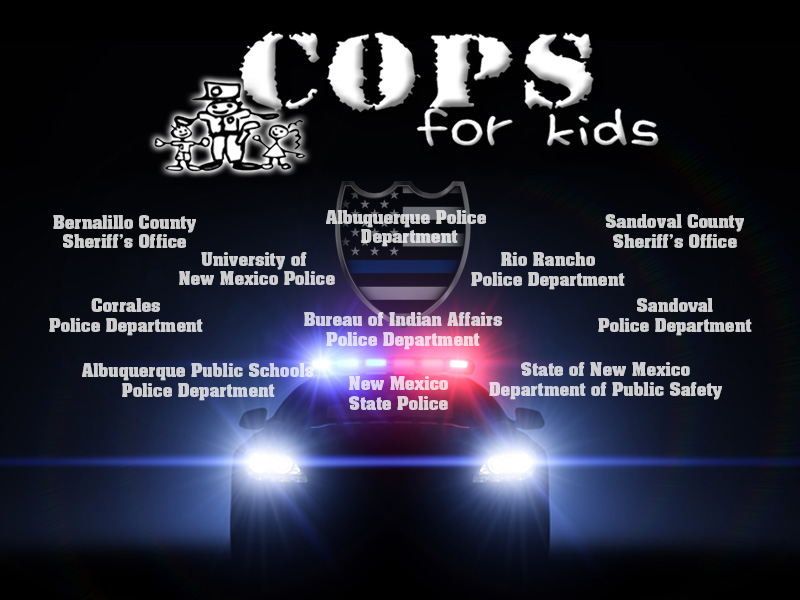 ---